Because Canada is so far north, many species have adapted to survive the long, cold winter months. Some species like frogs hide at the bottom of ponds, slowing their heart rate and breathing, basically living in a state of suspended animation until spring. Bears put on layers of fat and then wait out the cold in sung, warm caves. But some butterflies, like many birds, take flight, seeking warmer shores for the winter months.
The most amazing of these migrations is that of the monarch butterfly. These butterflies are known for their epic journey across North America. Every fall, as the days shorten and the cold air nips, millions of these delicate insects leave their home range in Canada and the United States to fly south. They continue until they reach Southern California or central Mexico, more than 5,000 kilometres away!
So basically Canada is like a cottage country resort for these southern visitors. And like good hosts, we want to ensure that our guests have everything they need during their stay.
This is where the Nature Conservancy of Canada (NCC) comes in. All spring and summer we've been busy at work ensuring that the monarch butterflies have everything they need to make their short visit enjoyable.
But monarchs can be picky, especially in terms of what they eat. In the spring, monarchs look for a type of plant called milkweed on which to lay their eggs. Once hatched, the green-and-white-striped caterpillars feed only on the milkweed plant. So while many consider milkweed a…well weed…it is super important for this at-risk species.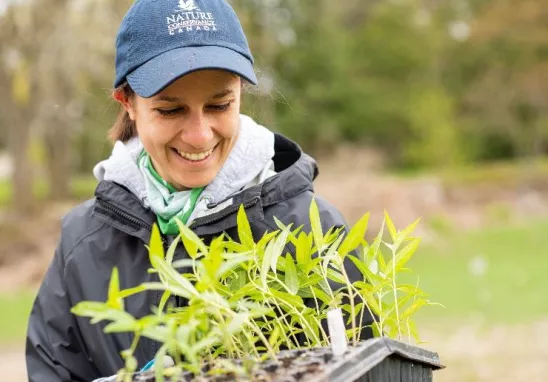 Generously supported by:
In partnership with: